EDUCATION

Education remains one of the strongest pillars of development, re-orientation and facilitating change, hence it is one of the cardinal directions of the victims of violence foundation. VOV invests in education with a view of ensuring that we contribute to sustainable capacity development and education system. Consequently, we have designed three flagship interventions which include the following: Alternative Schooling Intervention Programme (ASIP), Young Marshal's Club (YMC), Mentoring and Counseling.
HEALTH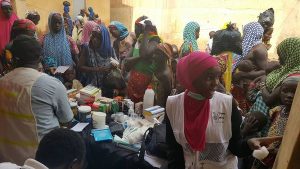 Conflict and displacement has brought untold hardship due to limited access to health services, especially children becoming vulnerable to diseases which results to fatalities. Victims of Violence Foundation sought to address this situation through Mobile Clinics that can be deployed with utmost speed and quick response to disaster. In addition, integration of Water, Sanitation and Hygiene activities has been key in the design and implementation of VoV's programs. To provide integrated health programs offering holistic care, we have three approaches, and they include the following: Medical Outreaches, Water Sanitation and Hygiene (WASH), Food and Nutrition.
FIRST RESPONSE AND COUNSELING

It is conceded that the problems being faced by vulnerable persons, exceed the available resources and capacities to address them. One aspect which, while acknowledged as crucial, is often neglected is supportive counselling for both adults and children. VoV mobilizes trained personnel to provide psychosocial counselling to affected persons while ensuring confidentiality, safety, and dignity of individuals.